Artisans of diving.
Deepening the relationship between Singaporeans and the living seas.
Singapore is where it all began with Livingseas. A dive education center par excellence, teaching diving since 1999.
Come dive Tioman with Livingseas and see Tioman in a different way!
Living Seas organizes trips every weekend to dive the Malaysian waters of Tioman. Come join us to experience Tioman at its best.
Virgin tropical rainforests, clear, warm waters, beautiful coral reefs and a magnificent sunset to round off the day. This is Tioman Island, voted as one of the World's top 10 most beautiful islands and it is accessible during one weekend trip, no leave from work required.
Dropping below the surface you find beautiful healthy reefs. The reefs have really benefitted from a quiet season in 2015, with plenty of new coral growth and fish numbers once again are booming.
Double tanks and nitrox 32 are available.
Schedule is based on MV DiveRACE's 3D2N Pulau Tioman Itinerary.
When
Meet at 6:00 pm
Where
Marina Country Club
11 Northshore Drive Singapore 828670
Trip Itinerary
Day 1
6:30pm – Depart Marina Country Club (dinner served onboard)
Sail to Pulau Tioman (10-12 hours sailing time)
Day 2
Divesites (Pulau Jahat / Renggis Island / Chebeh / Tiger Reef / Pulau Labas)
*dive sites would be determined based on the best weather conditions and timing
Day 3
Dive at Bahara Rock
10:00pm – Estimated arrival time to Marina Country Club (dependent on currents)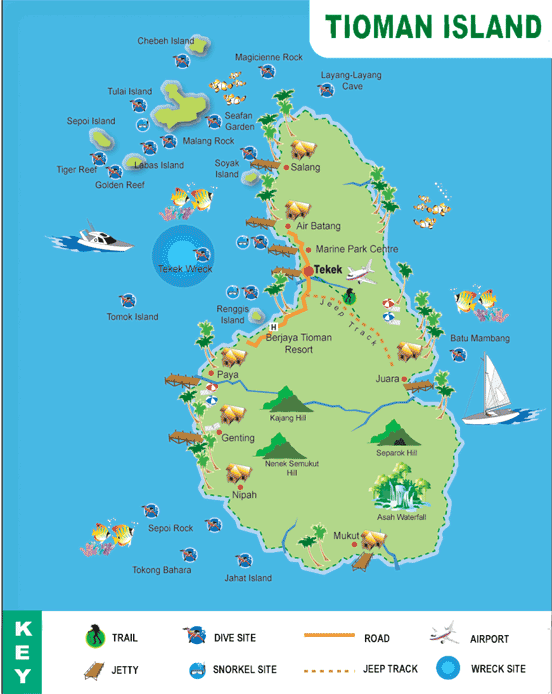 Requirements
Dive Insurance is compulsory for this trip. We also strongly advise you to get travel insurance. Please check your travel insurance policy for your diving needs.
What is included?
All nights' accommodation on board
All meals (Western & Thai) snacks, hot beverages, coffee, tea, Milo
Towels, daily cabin services
Fresh hot towel and drink after every dive
Tanks, weight belt, weights
Dive guides
What is excluded?
All flights & hotels stay
Marine Park fees (if any)
Port Fees
Dive & travel insurance
Massage services
Soft drinks, alcohol
Nitrox fills / special gases
Diving gear subject to availability
Note: If you have special dietary restriction please inform the crew in advance.
Livingseas is not your ordinary dive center. With an emphasis on technique and skills in our diving, our retail equipment selection matches this vision with a curated set of brands and models that only serve to assist you with your diving.
/!\ error getUserIDFromUserName. /!\ error empty username or access token.